Welcome back to Off the Shelf, a monthly tasting menu of everything literary the Winning Edits team has been devouring!
In this column, I take you on a literary–culinary tour of the Winning Edits team's bookshelves.
This month, we explore the books we grew up with. But these are books that didn't just accompany us on our journeys into adolescence and adulthood. They're books that took us by the hand—that grew us up in some way—books that showed us what was possible, expanded our imaginations, and left an indelible imprint.
This list came out of a team challenge to pick the one book that was most influential to each of us growing up. As you'll see, though, several of us had trouble picking just one book…
Note: This post contains affiliate links.
Harry Potter and the Order of the Phoenix by J.K. Rowling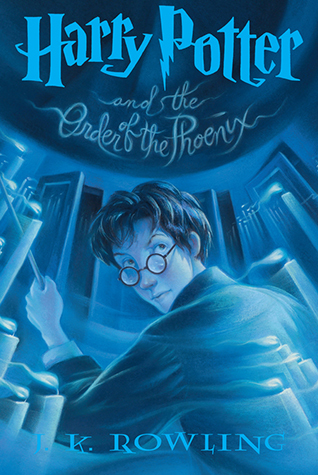 Production Editor David Grabowski: "As a devoted fan of the entire Harry Potter series, it's probably no surprise that my favorite of the seven is the fifth—the longest volume. But it isn't just the opportunity to stay engrossed in Harry's world for so long that draws me to this specific piece of the saga. For me, Order of the Phoenix is tied with personal nostalgia: I remember long nights under the covers in the summer, poring over Harry's misadventures with dementors, Umbridge, and Voldemort. I remember, much like Harry at the beginning of the book, lying around in the sweltering and boring summer, waiting for something to happen."
Little House on the Prairie Books by Laura Ingalls Wilder
Managing Editor Karen Beattie: "I was a big fan of the Little House on the Prairie books when I was young, because the stories took place in the Midwestern prairies, and I grew up in Iowa. The story of Laura Ingalls Wilder's family reflected the history of my own family, and I found it fascinating to learn about the early settlers in the Midwest, because my Scottish and Swedish ancestors settled on the Iowa prairies in 1864."
The Boxcar Children Books by Gertrude Chandler Warner
Senior Web Producer Mindy Holahan Peters: "I adored this series, and especially the first book! There was something magical about living in a secret home in the woods. I pestered my mom to let me eat dried beef like the kids in the story; I happily thinned vegetables one day at a relative's house because that's what the kids in the book did. These books were my first introduction to my favorite genre: mysteries. They kept me reading, because I had to know what would happen next."
The Call of the Wild by Jack London
Integrated Solutions Expert Non Wels: "The Call of the Wild is an adventure story set in the Yukon during the Gold Rush of the 1890s. The main character of the story is a dog named Buck, and whenever you have a main character in the form of a canine creature, I'm all in as a dog lover. But what I truly love most about the story is that it's about survival, nature vs. nurture, and even the Darwinian idea of survival of the fittest. Nature is brutal, but it's also awe inspiring. I look at the world through that lens often; it's therapeutic in a way."
The Tintin Books by Hergé
Editor Ray Sylvester: "Sure, in hindsight, the Tintin graphic novels are insidiously racist, cut through with tropes of white saviorism and otherness. At the same time, perhaps no other books inspired such wonder and wanderlust in me as a kid. As an adult, I've tried to hold space for both of these divergent realities: that books that are so problematic also served as such powerful fuel for my awe about the world out there, one filled with magic and totems, moon creatures and mysteries, and more to explore than could ever be explored."